Adult Scholarships/Grants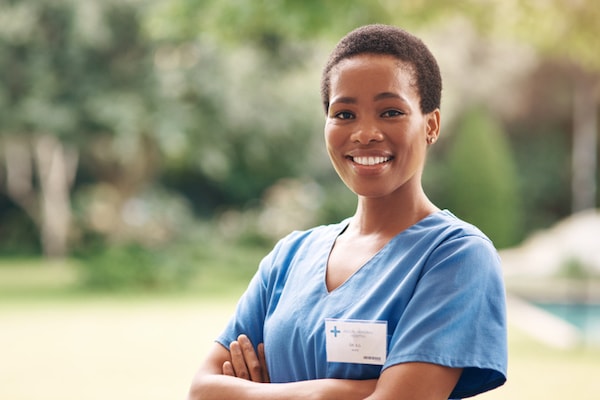 March 3, 2021 | Purdue University Global
|
Updated October 13, 2021
Despite making up nearly 40% of the population, according to the U.S. Census Bureau, minorities aren't proportionally represented in nursing. According to the 2020 National Nursing Workforce Study by the National Council of State Boards of Nursing, as reported in the Journal of Nursing Regulation, only 19.5% of RN respondents were minorities.
One way to increase diversity in nursing is to lower the burden of attaining a nursing degree. Earmarking scholarship funds for minority communities including Native American, Asian, Alaska Native, and African American nursing students is key to fostering diversity in nursing.
"Diversity is critical as it brings a number of culture and belief systems together that enable us to collaborate and capitalize on our strengths and increase awareness of our patient needs and the needs of our communities, which in turns helps to improve patient outcomes," says Melissa Burdi, DNP, dean and vice president for the School of Nursing at Purdue University Global.
Here are 12 nursing school scholarships for minorities to gain entry into higher education.
Scholarships for Minority Nursing Students
Sponsored by the Asian American/Pacific Islander Nurses Association, this $1,000 annual scholarship is for members of at least two years who are enrolled in undergraduate or graduate nursing programs and meet academic and leadership requirements.
2. Alaska Native Tribal Health Consortium Scholarships
The Alaska Native Tribal Health Consortium offers 10 $5,000 scholarships to Alaska Native and American Indian students enrolled in training or education programs that would allow them to work in the health care field. Applicants must be permanent Alaska residents.
3. American Indian Nurse Scholarship Program
The National Society of The Colonial Dames of America offers an annual $1,500 scholarship to help students of American Indian descent complete nursing programs and work in health care.
The Indian Health Service offers three scholarship programs of varying amounts for Alaska Native and American Indian students studying health care. Recipients must commit to working in an Indian health program for two years.
5. M. Elizabeth Carnegie African American Memorial Award
Nurses Educational Fund, Inc., offers a $2,000 endowed scholarship to African American nurses in doctoral nursing programs. The award was named after M. Elizabeth Carnegie, the first Black nurse to serve as a voting member on the board of a state nursing association.
6. NAANA Scholarships for Nursing Study
The National American Arab Nurses Association offers an annual scholarship program for applicants of Arab descent who are members of NAANA and enrolled at any level of nursing program. This can include associate, bachelor's, master's, or RN-to-BSN programs.
7. NAHN United Health Foundation Scholarship
This scholarship is for members of the National Association of Hispanic Nurses (NAHN), who have enrolled full-time in a nursing program. The scholarship awards $5,000 for three years.
8. Native Hawaiian Health Scholarship Program
The National Health Service Corps, part of the U.S. Health Resources & Services Administration, offers this scholarship to native Hawaiians pursuing careers in health care. The scholarship covers tuition and other school-related costs and provides a monthly stipend. In return, you must work in a medically underserved area within Hawaii for every year of funding you receive.
The National Black Nurses Association offers a number of scholarship programs for NBNA members. Applicants must have at least one year of school remaining and awards vary from $1,000 to $6,000 depending on the specific scholarship.
10. Philippine Nurses Association of America Scholarship
One $1,000 scholarship is offered to PNAA members who are graduate students pursuing a doctorate or post-master's degree. Other academic requirements may apply.
11. Thomara Latimer Cancer Foundation Scholarship
This scholarship for African American students under 30 who live in Michigan is designed to help students attend health care programs. Award amounts vary and students must maintain a 3.0 GPA.
12. Udall Undergraduate Scholarship
This award of up to $7,000 is earmarked for Native American and Alaska Native college students who are studying a health care field and plan to work with native communities during their careers.
Minority Nursing Associations
Whether you're looking for more scholarships or just want some fellowship in the nursing community, consider these minority nursing associations.
Tips for Applying for Nursing Scholarships
When dealing with something as serious as paying for nursing school, it is easy to become overwhelmed. Here are some things to know before applying:
Consider past winners. By looking at previous winners, you can get an example of the types of candidates the scholarship committee is looking for.
Check eligibility requirements. When looking for minority nursing scholarships, there are very obvious eligibility requirements. But also check for GPA and career goal requirements and don't waste time with scholarships where your career goals don't align.
Follow instructions. Because so many people apply for scholarships, simple mistakes like not saving your files together or missing an essay can cost you real money. Follow instructions closely when applying for scholarships.
Carefully craft your essay. An essay, if required, is a great way to stand out to a scholarship committee, but it is also an opportunity to lose out on a scholarship if you don't thoroughly understand the prompt. Make time for research and writing.
Proofread your essay and materials. Bad grammar and poor punctuation could cost you an award for nursing school. If possible, have someone else edit your essay to make sure it flows and is grammatically correct.
Deadlines matter. Be organized when applying for scholarships and make sure to track deadlines carefully. You don't want to be preparing materials at the last minute. Consider creating a checklist of all the awards you are applying for so you don't miss any important dates or information.
Earn a Nursing Degree Online
If you're considering earning an online RN-to-BSN, a master's degree in nursing, or a DNP, consider Purdue University Global. We offer nursing programs for busy working nurses who need the flexibility of online learning. Request more information to get started.