FAQs
Register Now
Following are descriptions and cost of our most popular programs. This page also contains frequently asked questions, which provide further insight into our college planning system.
Note: If you attend Florence School District 3 (SC) or Pinellas County Schools (FL), the registration fees are paid for by the school district:
Join a Cohort
2023-24 Cohort Program (Grades 9 – 12) ($499.95): Our 9-month cohort program provides an extraordinary opportunity for any student to achieve great college and scholarship outcomes. Our 10-part college planning system will guide any student in identifying the right college and scholarship matches and developing strategies to become the most competitive college and scholarship applicant possible. Students in grades 9 – 11 develop a year-by-year action plan, while high school seniors develop comprehensive essay writing, application, and college admissions strategies. While not every student aspires to be offered admission to the most competitive colleges or awarded the most competitive scholarships, every student can benefit by avoiding student loan debt and finding the best college match for their educational and career aspirations.
Components: Online curriculum containing 9 monthly modules (one for each month of the school year); lessons providing a comprehensive overview of college and scholarship pathways and specific actions to be taken during each month of the school year; monthly large group presentations and grade-level small group discussions to guide students in creating a step-by-step college-bound plan; guest speakers (admissions officers, parent panels, and student panels) providing insight into the "hidden rules" of college admissions and financial aid. The all-virtual meetings bring together students and parents from throughout the country on the second Saturday of each month from 10:00 am – Noon from September through May.
Online Curriculum Only
2023-24 Online Curriculum ($299.95): Designed for students who may be unable to participate in our cohort program or attend the monthly meetings, but who would like to use our college planning system to expand their college and scholarship opportunities. Access to our online curriculum may also be purchased by parents, teachers, counselors, coaches, mentors, or anyone who would like to expand their college planning knowledge or serve as an advisor to students.
Components: Online access to our College Planning System for your grade level.
Middle School Program
Emerging Leaders Middle School Cohort (Grades 6 – 8) ($499.95) A program focusing on the 3 pillars of scholarship, leadership, and service. Middle school students come together from throughout the country for virtual monthly discussions about leadership within the context of each student's gifts, talents, personality, and interests. Students learn how to develop social capital, grit, and a growth mindset.
One-on-One Programs
Personalized College Advising (Seniors) ($1,995.95): By the time a student has reached the end of his or her junior year of high school, parents may have invested thousands of dollars in summer programs, specialized camps, SAT/ACT Prep, tutoring, and even private schools with a goal of their student landing a college scholarship or being offered admission to a top college. However, with the competition for being offered admission to top colleges or qualifying for competitive scholarships at an all-time high, will the investment pay off without the guidance and support to get a student across the finish line?
Components: Personalized one-on-one guidance with our team of advisers who provide support across 15 areas, including review/recommending colleges and scholarship programs; selecting essay topics; reviewing the Common Application for grammar and language usage; choosing admissions cycles; and reviewing financial aid award letters.
Personalized College Advising (Juniors) ($995.95):
The one-on-one program for high school juniors is offered to students who require more hands-on guidance than our college planning cohort program. We provide comprehensive college planning with quarterly check-ins during the most critical year of high school. Our one-on-one support includes:
Guiding the student in setting school-year goals to maximize their body of work
Guiding the student in building their résumé (academic, athletic, dance, or creative arts)
Recommending colleges based on the student's aspirations and family's financial need
Reviewing and recommending junior and senior-year classes consistent with recommended colleges
Identifying institutional and private scholarship matches
Developing a holistic strategy for building relationships with colleges and increasing admissions opportunities
Providing guidance in strengthening a student's leadership and community service profile
Hosting periodic virtual sessions with students and parents to review actions, revisit goals, and affirm progression toward a strategic plan
Components: Personalized one-on-one guidance to maximize the actions taken during a student's junior year to increase their competitiveness as a college and scholarship applicant; and providing guidance in developing a matched college and scholarship list.
One-on-One Sessions for non-Cohort Students ($250.00): Our one-on-one support provides all-virtual guidance personalized to student and family needs. Each year, we successfully assist high school and college students with college essays, preparing for college and scholarship interviews, and providing pre-reviews of undergraduate and graduate school college applications within the context of the selectivity of the institutions to which students are applying.
Components: Personalized one-on-one guidance with our team of advisers who provide support across 15 areas, including review/recommending colleges and scholarship programs; selecting essay topics; reviewing the Common Application for grammar and language usage; choosing admissions cycles; and reviewing financial aid award letters.
Frequently Asked Questions
Purchasing a college education for many students and families, particularly those who are not homeowners, will be their family's largest financial investment. After leaving college, with or without a degree, student loan debt is preventing many students from ever becoming homeowners after amassing student loans exceeding the amount of a home mortgage. (Source: Homeownership & the Student Debt Crisis) Consequently, "college planning" for students who are most at risk of using student loans to pay for college may be the most important financial decision they ever make.
A quick review of social media posts indicates that parents are focusing their college planning efforts almost exclusively on grades, course taking, and test scores, while devoting insufficient attention to preparing their students to become the most competitive candidates in the "holistic admissions" process, described by Stanford University. Consequently, while this page provides answers to the most frequently asked questions, our college planning systems answers those questions that students and parents do not even know to ask.
What is "College Planning?"
The term "College Planning" refers to the strategies and actions taken by students with a goal of being offered admission to certain colleges or awarded certain scholarships.
(1) Why is "College Planning" important?
Competition. 2.7 million students graduate from high school each year. With 23,882 public high schools and 32,461 private schools, there will be over 50,000 valedictorians and salutatorians in the pool of potential college applicants. 8 out of 10 students will be seeking financial aid, and despite the myth that billions of dollars in scholarship go unclaimed each year, being awarded a scholarship is more competitive than ever. (Source: National Center for Education Statistics)
(2) I already have my college list, do I need college planning guidance?
Yes. There are 3,982 colleges and universities in the U.S. (Source: US News) Most students are familiar with a relatively small group of schools and know few students who are attending college on a full scholarship. Our program pursues two pathways: (1) Colleges to which a student wants to apply; and (2) Colleges to which a student needs to apply to be awarded the highest amount of institutional scholarships. Not only does our expertise allow us to create the recommended college list, but to provide guidance in strengthening a student's overall body of work for being offered admission to the recommended colleges.
(3) As the Class Valedictorian or Salutatorian do I need college planning guidance?
Yes. Each year school districts publish the college and full scholarship opportunities offered to their valedictorians and salutatorians. Sadly, such students frequently fail to be offered admission to their top college or offered any full scholarships as the direct result of their failure to understand that while their academic achievements qualify them to meet the admissions standards of top colleges and consideration for full scholarships, it is the strength of their application packaging that makes them stand out among the thousands of students with comparable academic achievements.
Elite private universities have made clear time and again that their admissions decisions are made through a holistic decision-making process that involves a series of discussions among the admissions team. This means, for example, Harvard rejects 1 in 4 students with perfect SAT scores. The University of Pennsylvania and Duke University reject three out of five high school valedictorians. Despite universities like Harvard, Princeton, Yale, and Stanford having closely aligned admissions criteria and similar rates of admission, just because an applicant gets into one school does not mean the applicant will get into another. That's why it makes headlines when a student is reported to have gained admission to all the Ivies. This is a rare, unexpected event. (Source: The Conversation)
(4) How successful are the students in your program?
Very. Nearly 50% of our students are offered full scholarships each year. This is 25 times the national average of 2%. For many of our students, they are not only the first in their family, but the first in their school district to be:
Selected as a Gates Scholar
Selected as a QuestBridge Scholar
Selected for the Yale Young Global Scholars Program
Selected as a Meyerhoff Scholar
Offered admission to highly selective colleges
Offered multiple full scholarships
(5) If I am a good student, or attending a private school, do I need to engage in college planning?
Depends. Every student should be pursuing some level of college planning strategies if they desire to attend college after high school. However, the scope of a student's strategies is dependent on each student's desired college or scholarship goals, for example, students planning to attend community college require less planning than required by students applying to selective colleges or for competitive scholarships. Students attending private school are still competing tens of thousands of other private school students in the pool of national and international college applicants.
(6) Which is better: AP, IB, or Dual Enrollment?
Depends. (1) Most colleges consider the level of rigor in the following order: IB, AP, and Dual Enrollment. The reasons are that IB is an international standard; AP is a national standard; and the quality of dual enrollment classes can vary widely based on the course taken and college where the class is taught (i.e., technical school, community college, 4-year college). While most dual enrollment classes are taught on campus by a college professor, the setting and teacher has little to with the quality of instruction.
(7) Will I receive college credit for all of my AP, IB, and Dual Enrollment classes?
Depends. (1) Colleges typically award credit for AP and IB classes based on the exam scores. (2) Colleges typically offer credit for dual enrollment classes based on the course and final grade. (3) Some colleges do not offer credit for all AP or IB classes and some colleges do not offer any credit for college classes taken while a student is attending high school. (4) Some colleges do not offer credit for either AP, IB, or dual enrollment classes (typically highly selective liberal arts colleges).
Princeton's Policy: Students who have earned college credits before completing high school cannot transfer those college credits to a Princeton undergraduate degree.
(8) When should I begin my college planning?
Now. Now is the time to begin the college planning conversation in regard to your career aspirations, types of colleges in which you are interested, and financial need of your family. If you are interested in applying to highly selective schools like MIT, CalTech, Harvard, Yale, University of Southern California, Stanford, Duke, University of Chicago, or Northwestern, then you should begin the conversation as early as elementary school. The same is true if you need to receive a full scholarship to make college affordable.
(9) Do people really begin planning for college in elementary school?
Yes. Students who are pursuing athletic scholarships begin with Pop Warner Football, Little League Baseball, and AAU Track and Field with hopes of becoming professional athletes or earning full college scholarships. Similarly, students in non-athletic areas, such as academic, music, art, theatre, or dance should be intentionally engaged in using their gifts and talents to position themselves for college scholarship opportunities.
Where students attend school can also determine the importance of early college planning. Consider the following example:
The student's elementary grades and test scores determined access to middle school classes for high school credit.
The student's elementary school academic performance allowed him to take 8 middle school classes for high school credit:

English I Honors
Algebra I Honors
Geometry Honors
Pre-AP World History and Geography
Digital Information Technology
Physical Science Honors
Spanish I
Spanish II

The middle school classes taken for high school credit allowed the student to build a more rigorous high school transcript than nearly all other students in his high school who were not on an accelerated elementary school academic pathway.
(10) Can I receive my college planning guidance from my school counselor?
Unlikely. While school counselors have insufficient training in college advising and the number of students for whom the typical school counselor is responsible does not allow school counselors to devote enough time to providing comprehensive college planning guidance. As indicated in the table (Source: CollegeBoard), counselors can be responsible for more than 400 students. Additionally, students attending high schools with low college attendance rates; high populations of students of color; or high populations of students on free- or reduced-lunch, are likely to have even higher student-counselor ratios. Even students attending private schools with smaller student-counselor ratios can benefit from working with an independent adviser.
(11) Do I need a résumé?
Yes. There are different types of résumés. Academic, athletic, and creative arts résumés are used to provide a one-page snapshot of your achievements, leadership, service, and awards. Essentially, what is on your résumé reflects what will be in your college application. You should also present a copy of your résumé to anyone from whom you are seeking a letter of recommendation and as a supplement to scholarship applications.
(12) How important is the college essay?
Depends. The importance of your college essay depends on the selectivity of the colleges to which you are applying for admission. Open enrollment and non-selective colleges may not require an essay. Selective and highly selective colleges will not only require an essay, but your essay will be read by at least 2 people and can make a huge difference in whether you are offered admission or rejected.
(13) Should I use my language arts teacher to help me write my essay?
Depends. Most language arts teachers are not trained in the nuances of college admissions essays, such as recommending an essay topic based on the most compelling aspects of a student's background; selectivity of the colleges to which the student is applying; the mission, vision, core values, institutional priorities of the colleges to which the student is applying; or how the story being told through the essay is reinforced by teacher recommendations, the student's leadership, and community service. In the video below, two students discuss the inability of language arts teachers to provide guidance in writing college essays.
(14) Which Common Application Essay Prompt should I choose?
Depends. The college essay is an opportunity to make your case as to why you are a good match for the school; how you have grown through obstacles that you have encountered; how you had a significant impact on the lives of others; why you are so passionate about something and how these passions manifest themselves in your life; or why you have a purpose driven life. You must first decide on the story that you want to tell and then select the prompt through which you can most compellingly tell your story.
In the most recent college application cycle reported by the Common App, the 3 most popular topics were:
#7, the "topic of your choice" essay was chosen by 24.1% of applicants.
#5, the "discuss an accomplishment" essay was chosen by 23.7% of applicants.
#2, the "challenge, setback, or failure" essay was chosen by 21.1% of applicants.
(15) How do I balance participating in a cohort with school?
Most students will balance participating in multiple school-related activities or working a job. Participating in the cohort is no different. Participation in our program is even more flexible than many school-related activities. Students have 24/7 access to our online curriculum, may ask questions at any time via email or text, and are totally free to work at their own pace. For example, our year-long program gives students a month to work on each monthly module in our curriculum, and they may complete the units at any time within that month. With this accommodating structure, students can further their college planning process in ways that best suit them while increasing critical thinking and writing skills, increasing presentation and communication skills, and learning important time management skills.
Paying for College
(16) Won't I be able to pay for college with my state scholarship?
Unlikely. State scholarships and grants like the Georgia Zell Miller, Florida Bright Futures Academic Scholar, and Cal Grant will only pay up to 100% of in-state tuition at public universities. These scholarships will leave between $15,000 to $32,000 in unpaid annual costs, depending on your state. Taking out student loans to pay the difference in cost will leave the typical student $60,000 to $128,000 in student loan debt, if they graduate on time. Note: Students who are served by such state and federal programs as McKinney-vento and Foster Care may be awarded money to pay for college far beyond the amounts offered through state scholarships.
The cost of attendance reflected in the table is for in-state students, staying on campus, for one academic year. Following are the 4-year graduation rates for each school reflected in the table. However, the 6-year graduation rate for whites is 69.6%; and for Blacks and Latinos — 51.5%.
74.8% – UCLA
68.0% – University of Florida
61.5% – University of Georgia
58,1% – University of South Carolina
57.8% – University of Texas – Austin
50.0% North Carolina State
(17) Can't I just go to my state school and get scholarships to pay the difference?
Unlikely. Despite the popular myth of billions of dollars in unclaimed scholarships, only 7% of students receive any type of scholarship. The average amount of scholarships students will receive is $4,202. (Source: ThinkImpact)
(18) What are my chances of receiving the scholarships that my counselor told me to apply for?
Depends. Your chances of being awarded local scholarships from businesses, fraternities, sororities, credit unions, alumni associations, and local charities may be good. However, unless you are a top student, capable of being offered admission to the country's most selective colleges, your chances of being awarded a national scholarship will be much lower. Consider that counselors at each of the 23,882 public high schools and 32,461 private schools are giving their students the same scholarship package and thousands of students are applying for the same scholarships.
Following are the percentage of applicants who are awarded the following popular scholarships:
Burger King Scholarship (most students will receive a $1,000 scholarship) will receive 200,000 applications for an unknown number of awardees
Coca-Cola Scholarship (value – $5,000 per year) will receive 200,000 applications for the 150 scholarships awarded (.075%)
Davidson Fellows Scholarship (value – $2,500 – $12,500 per year) is only available to the most academically accomplished students who have completed a significant piece of work
Gates Scholarship (value – last dollar after other financial aid) will receive over 60,000 applications for the 300 scholarships awarded (.5%)
GE-Reagan Scholarship (value – $10,000 per year) will receive over 20,000 applications for the 20 scholarships awarded (.1%)
Ron Brown Scholarship (value – $10,000 per year) will receive 4,000 applications for the 20 scholarships awarded (.5%)
(19) How do I know which scholarships I should be applying for?
Research. In a manner similar to colleges, scholarship programs profile the type of students who have been awarded their scholarship, including academic records, leadership, community service, and significant achievements. However, in our program, we have our own data of where our students are offered scholarships and why. Focus your research locally, then within surrounding communities, then throughout your state, and finally, nationally.
(20) Can I get a full scholarship if my family is upper income?
Yes. Scholarships typically fall into 1 of 3 categories: (1) Merit – based on specific criteria, such as academics, athletics, art, music, theatre, speech and debate, leadership, etc.; (2) Need – based on family income as reported on the FAFSA; (3) Lottery – Based on essays, videos, or some other vague or general criteria in which almost all applicants are considered. Consequently, categories 1 and 3 are available to any student irrespective of family income.
(21) Can undocumented students qualify for scholarships?
Yes. While some states offer scholarships and grants to undocumented students (Source: Higher Ed immigration Portal) who are state residents, the best scholarship opportunities come from being offered admission to colleges that treat undocumented students in the same manner as international students for financial aid purposes. The financial aid award presented below was offered to an undocumented student and exceeds the cost of attendance.
You might also be interested in learning that the student who was offered admission to the country's top ranked liberal arts and college did not waste her time taking and retaking the SAT or the ACT. She focused on presenting a strong body of work to her colleges and opting not to submit test scores.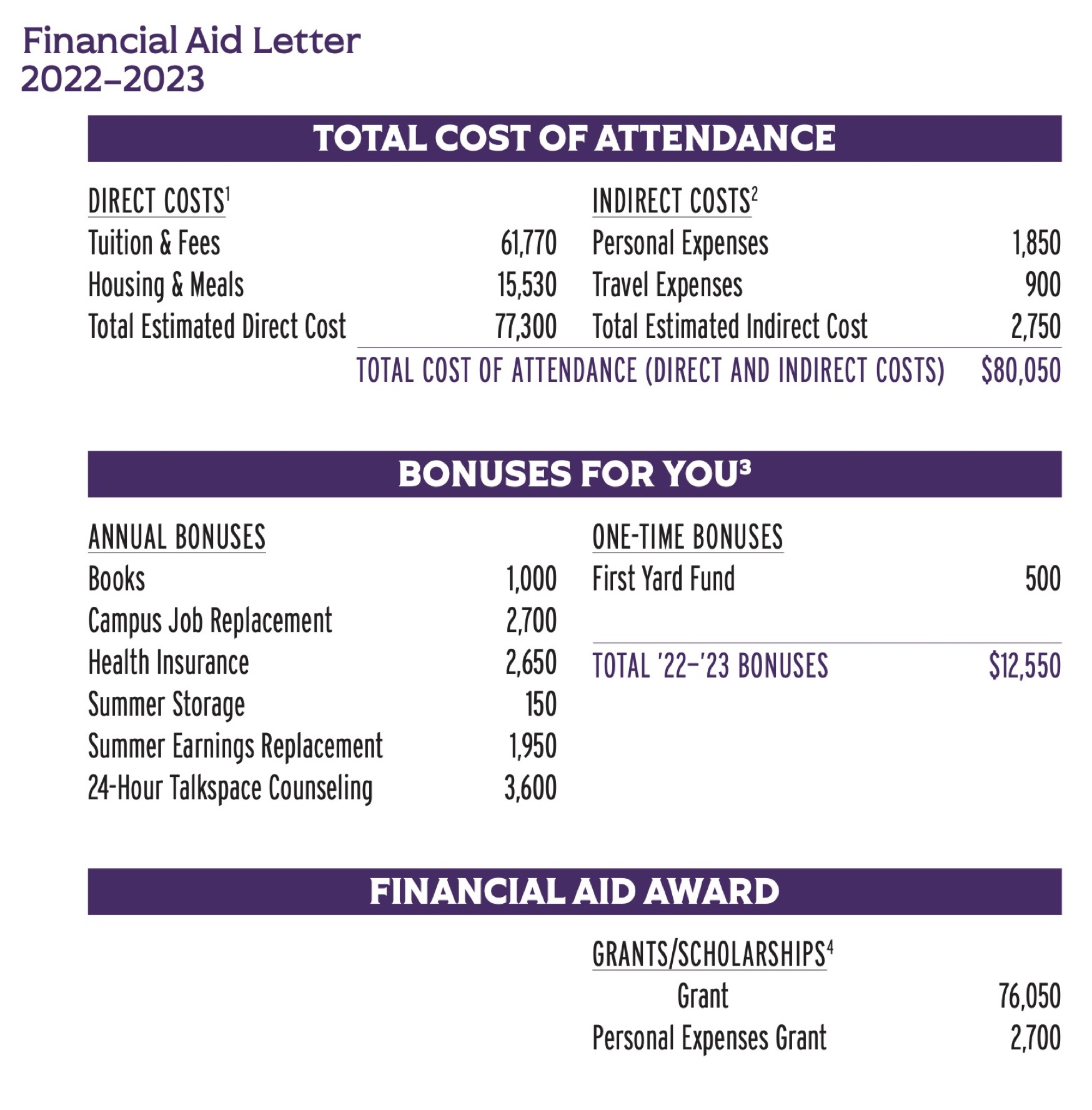 (22) What are my chances of receiving an athletic scholarship?
Less than 2 in 100. Only 1.3% of high school athletes are awarded an athletic scholarship, with the average scholarship award varying between $14,000 – $15,000 per year for D-I schools and $5,000 – $7,000 for D-II schools. (Source: ThinkImpact)
College Choice/Match
(23) What is wrong with attending a community college?
Nothing. In the US, students have many college options, i.e., technical schools, trade schools, community college, liberal arts colleges, research universities, military schools, and military service academies. In addition to the college options are specific degrees and programs, such as workplace certificate programs, associates degrees, bachelors degrees, and dual degree programs. There are also different types of colleges and programs within colleges, such as honors colleges and cooperative education programs. There are also colleges that have a unique purpose and mission, such as Historically Black Colleges and Universities (HBCUs), Hispanic Serving Institutions (HSIs), religious schools, single-gender schools, and colleges with workplace programs that pay for tuition. Choosing which college option is best depends on each student's educational goals, career aspirations, and financial need. (Source: National Center for Education Statistics)
(24) Won't it be less expensive to attend a community college?
Depends. While many states offer free tuition to attend community college, students still need to pay for books, fees, room and board, and personal expenses. Consequently, a full scholarship to any college would cost less than to attend a community college.
(25) Don't colleges only consider grades and test scores?
Depends. Colleges have different admissions standards, which broadly categorizes them as:
Open Enrollment: Any student is admitted (typically trade schools, technical schools, and community colleges)
Minimum Standards: Any student is admitted who meets the published admissions standards (i.e., high school coursework, minimum GPA, and minimum SAT/ACT scores)
Competitive (range from non-competitive to competitive): While students must meet the minimum standards to be considered, students are further evaluated based on their level of classes, grades in their core subjects, test scores, and other criteria. The admission rate may be 50% or less.
Selective (range from selective to very selective): Colleges that evaluate each student based on a rubric reflecting the characteristics the college wants reflected in its freshman class, such as coursework, grades, test scores, leadership, community service, gifts and talents, achievements during high school, teacher recommendations, sociocultural background, and essays. College selectivity can range from "competitive" to "most competitive." The admission rate may be 25% or less. (Source: New York Times) (Additional Source: Jack Kent Cooke Foundation)
Here is how Yale responds to this question:
We estimate that over three quarters of the students who apply for admission to Yale are qualified to do the work here. The great majority of students who are admitted stand out from the rest because a lot of little things, when added up, tip the scale in their favor. So what matters most in your application? Ultimately, everything matters. The good news in that is that when so many little things figure into an admissions decision, it is fruitless to worry too much about any one of them. (Source: What Yale Looks For)
(26) How do I know which colleges to which I should be applying?
Research. Like the Northwestern Class Profile presented below, colleges provide a lot of information from which you can determine your competitiveness as an applicant. However, in our program, we have our own data of where our students are offered admission and why. This allows us to provide college and scholarship recommendations.
SAT/ACT Scores
(27) Should I repeatedly take the SAT and ACT?
No. Take both tests one time. Review your score reports with your teachers to determine when, or if, the information pertaining to your wrong answers will be taught. Then choose the test, ACT or SAT, that you will focus your test prep efforts.
(28) Will your program help me raise my test scores?
Yes. We provide a set of recommendations that, when followed, will result in higher test scores.
(29) Do I need to spend thousands of dollars on SAT/ACT Prep?
No. The SAT and ACT exams are designed to assess what you have learned in high school. Identifying what will be tested; working with your high school teachers and tutors; and deepening your content knowledge in the areas that will be tested should result in good test scores. A private tutor may be only be required if you do not achieve your test score goals.
(30) What year's PSAT scores qualify for National Merit Scholarship status?
11th Grade. In 2021, nearly 1.5 million students took the PSAT with 50,000 students earning scores high enough for national merit consideration. (Source: Compass)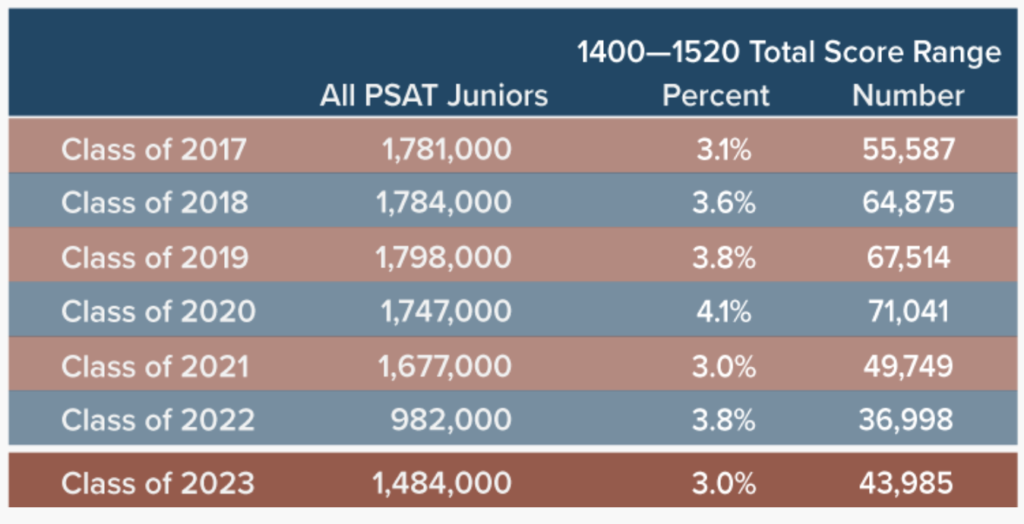 The Athletic Advantage
Athletes can have an advantage in college admissions, just not the advantage that most parents and students are spending thousands of dollars and committing thousands of hours positioning themselves for—scholarships.
(31) As a starter on my high school varsity team, what are my chances of landing an athletic scholarship?
Unlikely. Before thinking about landing an athletic scholarship, high school athletes must consider that they are unlikely to even land a position on a college team. The percentage of high school athletes who play on a NCAA D-I, D-II, or D-III team are less than 15% across all sports and less than 4% for men's basketball, volleyball, and wrestling; and less than 6% for women's basketball, softball, tennis, and volleyball (Source: NCAA)
For those high school athletes who are able to make a college team, only 2% will be offered any type of athletic scholarship and only 2% of college athletes will play a professional sport. The percentage of men's college basketball players and football players who play professional sports is 1.2% and 1.6%. The percentage of women's basketball players who play professional basketball is .8%. (Source: NCAA Guide to The College-Bound Student Athlete)
However with the 'right' plan; building relationships with the 'right' coaches; and applying to the 'right' schools, high school athletes who are also good students can enjoy the "Athletic Advantage," which is less about good coaching and more about college advising.
Got a Question? Contact us if you would like to add a question to this page: Email: info@accessandequity.org