College Planning Cohorts
Expanding Access to Top Colleges and Top Scholarships
Our Cohorts Are Expanding Access and Changing Lives
Overview
Data from the National Postsecondary Student Aid Study provides clear evidence that students should be focusing less attention on searching for scholarships and more attention on getting into the right colleges.
1.58 million students are scrambling for the $6.1 billion in scholarships awarded each year, which averages to about 1 in 8 students amassing just $4,202 in scholarships
Only 0.2 percent of students acquire $25,000 or more in scholarships
Only 1.5 percent of first-time college students receive a full scholarship to college
Only 2.3 percent of students are awarded athletic scholarships, which average only $11,914 each
The number of our college planning cohort students receiving full college scholarships each year, qualifies our program as one of the most successful in the country. Our success is the result of our focus–not on scholarships, but on getting into the 'right' colleges. However, identifying the 'right' colleges and acquiring the money to pay for college is about choices—good choices and poor choices; informed choices and not so-informed choices—that students make every day. One of our primary goals is to provide students (and families) with the information needed to make informed choices across such areas as how to plan for college, how to serve their communities, how to lead, and how to "Own the Process," especially as it pertains to academic outcomes. While many thousands of students are in difficult schools, where they may lack books, materials, and a consistent or highly qualified teacher, they must choose to do their best and use their college essay to share their story and shed light onto their journey—make choices.
Our College Planning Cohort Program (TM) provides middle school, high school, and community college students with the information needed to make informed choices. Pictured here is Rebeca and her twin brother, David. Rebeca and David made a choice to return to Lake City High School (SC) early from working in the fields with their parents, who were Migrant Farm laborers. Rebeca and David returned to attend our College Planning Boot Camp and worked hard completing the activities throughout their senior year of high school. Rebeca went on to be selected as the second Gates Millennium Scholar in the history of her student district.
Our program is supported by eLearning Lessons for grades 6 -8; 9 -10; Grade 11; Grade 12, and community college. Students may work directly with our foundation or through our faith- and community-based partners. We are also partnered with the Guilford County Schools (NC); Florence County School District 3; Pinellas County Schools (FL), and Antelope Valley College (CA). In addition to our year-long cohorts, we host College Planning Boot Camps for middle school and high school students each summer.
Our cohort students are choosing to be intentional in their college planning and are among the top performing and most motivated students in their respective schools; are measurably increasing their GPAs and SAT/ACT scores; are performing thousands of hours of community service and assuming leadership roles across an array of clubs, organizations, activities, and athletic teams; and are being offered admission and millions of dollars in scholarships to some of America's most selective colleges and universities.
As a result of making informed college choices, our cohort students are assuming student loan debt at a rate far lower rate than the national average and graduating on time at a rate far higher than the national average. We are proud of the many hundreds of students with whom we have worked who are choosing to "Own the Process."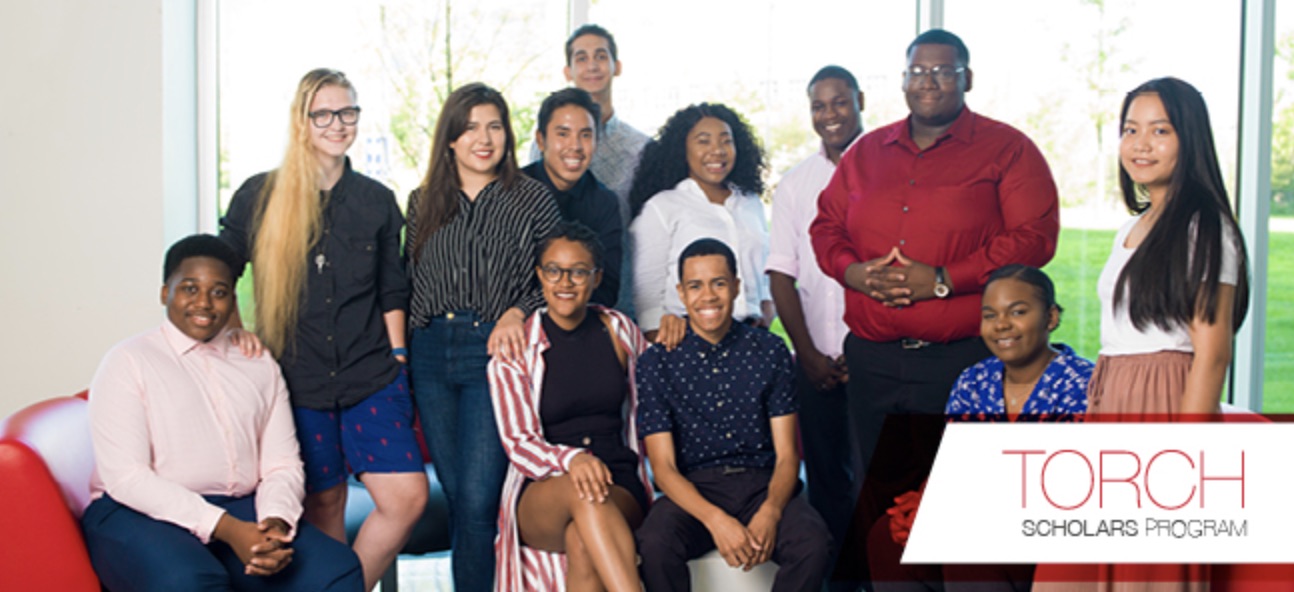 Congratulations to our 2018 Torch Scholars, Damian Lee from Florence County School District 3 Cohort (SC) (seated on the far left), and Otis Burns from Guilford County Schools Cohort (NC) (standing 4th from the right). We are so proud of you and know that you will do great things and make an indelible contribution to the Northeastern University community and the Torch Scholars Program.
Faith- and Community-Based Partners
Click onto the link to learn more about the cohorts operated by any of our community-based partners: ASA Guide Right (GA) • TCC Girl Scouts (GA) • Crossroads for Teens (GA) • World Victory International Christian Center (NC) • United Ghana Christian Church (GA) • Turner Chapel AME Church Education Ministry (GA)
School District Partners
Florence County School District 3 (SC) • Guilford County Schools Parent Academy (NC) • Guilford County Schools First Generation Ambassadors Program (NC) • Pinellas County Schools (FL)
Community College Partners
Want to register?
Click here for more information Click here to download brochure