College Planning Cohorts
Cultivating Conversational Communities
College Planning Cohort Program
Click here to download our 2022-23 High School Senior Cohort Recognition Program
Our Program is One of a Kind
Mychal Wynn is a 30-year author, educator, and educational consultant. He and his wife, Nina, founded Rising Sun Publishing, which is the publisher of Mr. Wynn's 33 published books and sole source of the College Planning Cohort Program. In 2007, their publishing company partnered with the nonprofit Community Based Organization, The Foundation of Ensuring Access and Equity to expand their outreach to marginalized and underserved communities to ensure that every student, no matter their household income or where they attend school, has access to the best college planning guidance and support.
In 2013, while serving as the Education Ministry Leaders at the Turner Chapel AME Church in Marietta, Georgia, Mychal and Nina Wynn developed a partnership between the Turner Chapel AME Church and the foundation to create the first cohort of aspiring college students (
Students Offered $4.1 million in scholarships
). The two founding principles were: (1) Support students and families in small groups (i.e., cohorts); (2) Provide students and families with the latest information to assist students in gaining admission into their top choice colleges and assist families in avoiding student loan debt.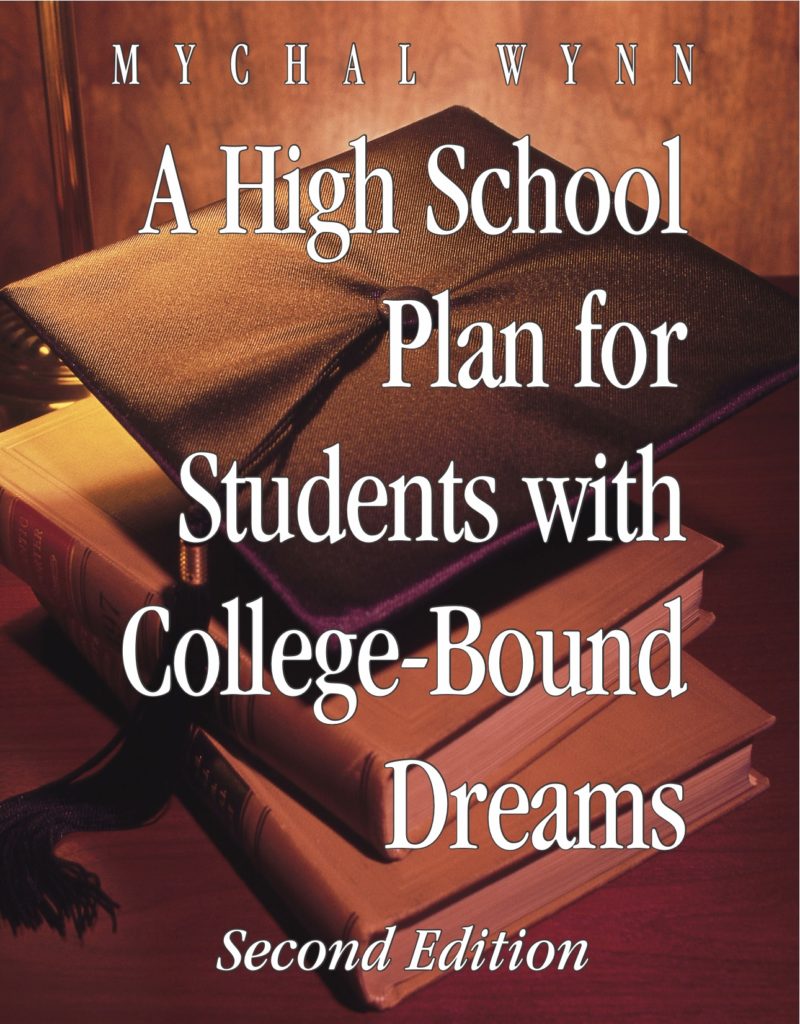 In 2014, the foundation partnered with
Florence County School District 3
(SC); in 2015, the foundation partnered with
Guilford County Schools
(NC); in 2016, the foundation partnered with Judson ISD (TX); in 2018, the foundation partnered with Pinellas County Schools (FL); and in 2020, our program received national recognition as a recipient of the
National School Boards Association Magna Award
for providing college planning guidance and support for students from marginalized populations (e.g., lower income, first generation, refugees, and undocumented).
As members of the
National Association for College Admissions Counseling
(NACAC), our foundation is a recognized Community-based Organization (CBO) by hundreds of colleges and universities throughout the United States. Our students have been selected for such competitive programs as the Yale Young Global Scholars; QuestBridge; Posse; Ron Brown Scholars; North Carolina A&T Dowdy and Cheatham-White Scholars; North Carolina Central Cheatham-White Scholars; Northeastern University Torch Scholars; Georgia Tech Clark Scholars; Georgia Tech Gold Scholars; UMBC – Meyerhoff Scholars; University of Richmond – Richmond Scholars; and Rhodes Scholars.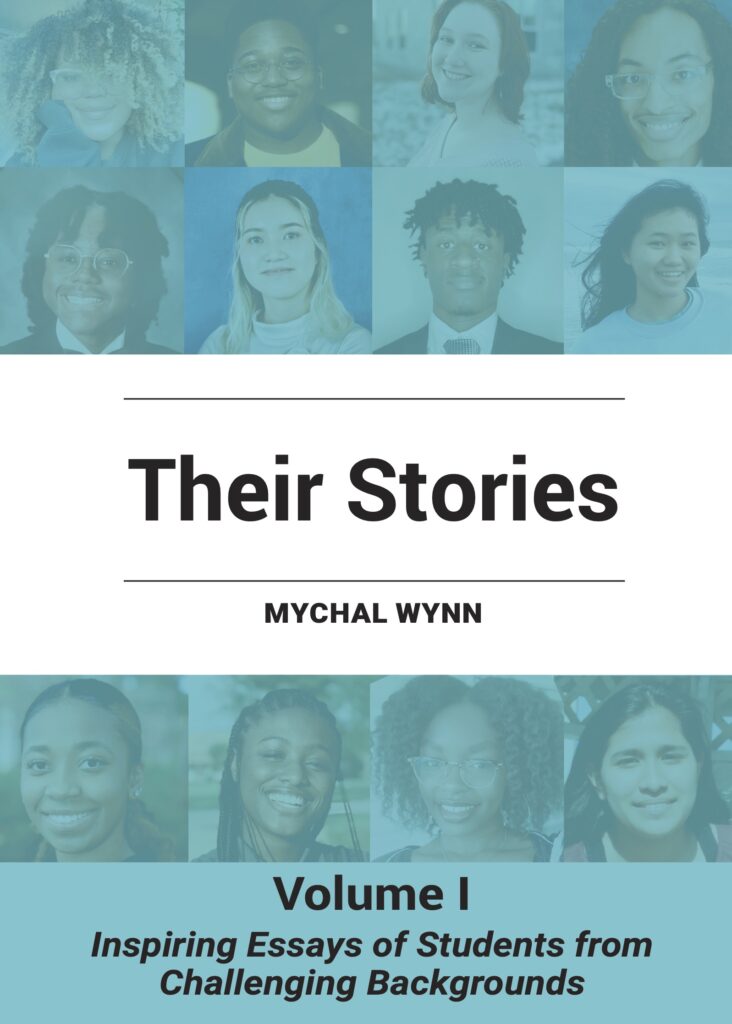 While other programs are focused on
identifying
and supporting high performing high school juniors and seniors, our cohort program is focused on
developing
any student in grades 6 – 10 into high performing high school juniors and seniors. In the following video, produced by cohort students, Kimberly, who was offered 6 full undergraduate scholarships (Amherst, Duke, Princeton, Vanderbilt, Washington & Lee, Williams) graduated with a BA in Math and Chemistry from Williams College. We then assisted Kimberly in applying to graduate school, where she was offered 6 full graduate school scholarships (Dartmouth, Iowa State, University of Arizona, University of Iowa, University of Massachusetts-Amherst, and the University of Nebraska) and is now a Teaching Assistant pursuing a Ph.D. in Math at Iowa State University. Kimberly has recently been selected as a Ford Foundation Fellow and as a National Science Foundation Fellow.
The other students participating on the video production team are equally accomplished:
Omar, a high school senior from Dallas Georgia, has been offered admission to Brown and selected as a Jack Kent Cooke College Scholar
Jocelyne, a high school sophomore in the IB Program at St. Petersburg High School in St. Petersburg, Florida is the president of our youth leadership board and ranked at the top of her high school class
Josiah, a high school sophomore from Boca Ciega High School in St. Petersburg, Florida has served on our youth leadership board and is ranked at the top of his high school class.
7-year Curriculum
Our College Planning Cohort Program is a 7-year curriculum-based program reflecting our 3 pillars of scholarship, leadership, and service.
3-year Emerging Leaders Middle School Program:
Our middle school college planning approach is to guided middle school students in planning their 7-year middle school through high school trajectory across the areas of academics, leadership, community service, and school/community engagement.
4-year College Planning Cohort Program: Our high school college planning approach is to inspire students to be intrinsically-motivated learners and leaders, and to maximize school and community-based opportunities to develop their gifts and talents, and to have a community impact through their leadership and service. Through our grade-level appropriate curriculum:
9th graders EXPLORE their high school options across the areas of academics, leadership, service, and extracurricular activities.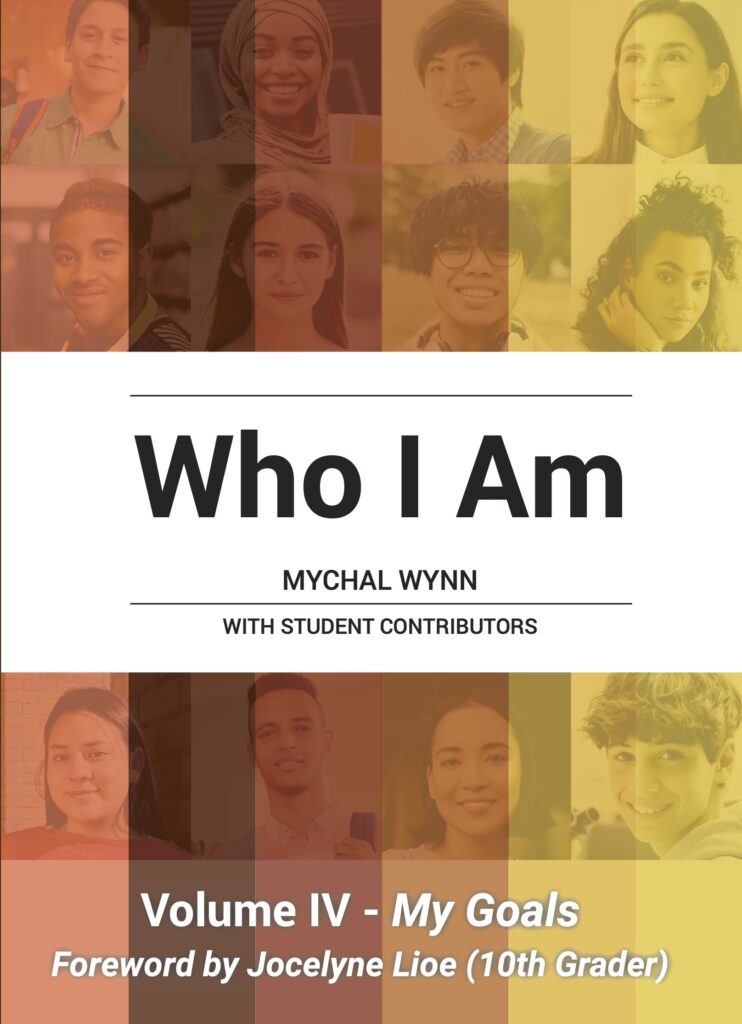 10th graders AFFIRM
college and scholarship pathways and align their academics, leadership, service, and gifts and talents with their affirmed pathways.
11th graders PLAN to pursue specific college and scholarship pathways.
12th graders IMPLEMENT THEIR PLANS in pursuing their affirmed college and scholarship pathways.
Through this process of engagement, students are inspired to "Own the Process" upon entering our program and guided through the process of pursuing their college and scholarship aspirations.
Program Overview
As a college planning program, the primary focus of our program is to assist students in developing a comprehensive set of strategies that will result in the widest range of college choices, whether to a particular type of college or applying for a particular type of scholarship. Consequently, the first module in our program is designed to provide us with insight into each student's educational goals and career aspirations so that we may best guide students in setting goals and developing a plan through high school onto their dream pathway after high school.
Following are terms that students and parents will hear repeated in our program:
Body of Work: Represents what is revealed through a student's résumé and academic profile. These are the personal qualities and achievements that will ultimately be presented in each student's college and scholarship applications, such as gifts and talents, extracurricular activities, leadership roles, community service and community impact, and honors and awards.
Own the Process: Represents a student's attitude toward setting and pursuing goals, and the effort that a student puts forth toward completing their schoolwork, the college planning activities, or to pursuing "exceptionality" in developing their gifts and talents.
Don't Leave Any Points on the Table: Represents a commitment to academic excellence by pursuing every possible point in a course grade. This means attempting to earn 100 points when the highest possible grade is 100 or attempting to earn 105 points when 5 points of extra credit are offered.
Exceptionality: The term "exceptionality" encapsulates the aforementioned terms. Owning the process, not leaving any points on the table, and developing a high quality body of work, combine to present a student as an exceptional college or scholarship applicant.
College Planning is All About Strategy
The fully appreciate why "Owning the Process," not leaving any points on the table, and pursuing exceptionality are important actions, students and parents simply need to consider how incredibly competitive it is to be offered admission to a top college or to be awarded a full college scholarship.
Nationally, less than 2% of students from the 26,727 public, private, and charter high schools in the United States (Source: National Center for Education Statistics) are attending college on full scholarships
with some sources suggesting the number to be much lower at .2% (Source:
Full Ride Scholarships
). The estimate for full athletic scholarships is .3% (Source: NCSA).
48.6% of our 2022 Cohort will be attending college on full scholarships
. To fully appreciate the extraordinary outcomes of our students, read the Washington Post article, "
Your child probably won't get a full ride to college
." There are no programs that can be compared to our program. Programs such as
AVID
,
TRIO
, and
Upward Bound
are focused primarily on increasing college readiness and inspiring students from lower income families and marginalized communities to attend college. While different from AVID, TRIO, and Upward Bound,
Naviance
, is also a "college readiness program"
not a college planning program
and makes no claims to the contrary.
None of these, or other such programs, proclaim to be focused on guiding students in matching to the 'right' colleges or to the 'right' scholarships. They do not provide guidance for increasing on-time degree attainment or eliminating student loan debt. They also make no claims for guiding students in choosing the 'right' essay topics; packaging themselves to be the most competitive candidates possible; developing and presenting an overall 'body of work' consistent with the mission, vision, and core values of their desired colleges; or assisting students in developing an exceptional "self presentation" resulting in being offered admission to the country's most selective colleges, with the most generous financial aid polices; or being offered the country's most selective scholarships. This is what we do, which is why comparing our program (or our outcomes) to such programs is an unfair comparison.
If increasing college readiness and expanding college access was all that was needed, student loan debt would not be so high and college completion rates so low. The table presented below, taken from the SallieMae report, "How America Pays for College 2018" provides insight into the $1.56 trillion student loan debt crisis and the disproportional load being carried by students from demographically identifiable subgroups.
Parents and Student Perspectives
Are You a Good Fit for Our Program?
Despite the wealth of information and proven success, each student and parent must determine if they are a good fit for our program. Students must be vested in the work required to develop a comprehensive college-bound set of strategies. While a student may be unable to participate in the monthly discussions due to conflicts in their work or extracurricular activities, they must be vested in completing the monthly modules, through which their college and scholarship plans materializes. Students who are unable, or unwilling, to make this commitment should not apply to our program.
Your Role: As a parent, teacher, counselor, coach, mentor, or program administrator, your role is to cultivate a "conversational community." Whether one-on-one or in a small group setting, talk to students about what they are learning. Ask students to not only explain what they are learning, but how they will apply what they have learned to their lives. Review their narratives and assess their level of engagement. Ask probing questions, such as explaining the differences between liberal arts colleges and research universities or cooperative education programs and dual degree programs.
Parent/Mentor Training: For parents, teachers, counselors, coaches, and mentors who are unnerved by the prospect of engaging students in one-on-one or small group conversations about college planning topics, we offer a free online training session for parents, teachers, counselors, or mentors for students registered in our program. Training sessions provide guidance in navigating our online classroom, how lessons are structured, and how to focus conversations around the, "Guiding Questions," which are provided in each lesson. We provide guidance in reviewing student narratives and how to use student narratives to assess student engagement.
Our curriculum does all of the heavy lifting. Your mentoring or after school program does not need to develop a curriculum. Your faith- or community-based program does not need to hire college planning counselors or consultants. We provide the content and your organization cultivates the conversations. We introduce students to grit and a growth mindset, while you talk to them about how to demonstrate grit and growth mindset. We introduce students to writing college essays that tell their story using non-cognitive variables and you listen to their stories and encourage students to speak their truth.
Our program removes barriers to closing the college knowledge gap. Your Boys and Girls Club, YMCA, Jack and Jill, fraternity, sorority, school, classroom, athletic team, or faith-based organization can bring students together, either in person or via conference call to talk about what they are learning and inspire students to dream bigger and to reach higher. Education is the great equalizer.
We Are Not a Scholarship Program
We are not a scholarship program. If you review the listing of "The 10 Biggest Scholarships in the World," you will find the amounts vary between $1,000 and $50,000 with the competition for such scholarships being greater than being offered admission to Harvard or Stanford. In contrast, institutional and full scholarship opportunities at hundreds of colleges may be valued at over $300,000—which is why our program's focus is on guiding students in making the right college match!
We are a college planning program focused on guiding students through developing high quality academic résumés; guiding students in aligning their activity and leadership involvement with their college/career aspirations; developing rigorous 4-year high school course schedules; engaging students in ongoing self-assessment and setting goals; matching students to the 'right' colleges and scholarships; assisting students in developing college readiness skills; and guiding students (and families) in developing a strategic plan and a high quality 'self presentation' to gain admission to top colleges and high dollar institutional scholarships.
The type of college planning support that we provide students cannot be provided by schools or school districts, which have broad ranging programs and initiatives. Exacerbating this lack of support is the reality that high school counselors, no matter how well intentioned, cannot provide sufficient college planning guidance and support, particularly to the most vulnerable students.
The College Board's "National Survey of School Counselors and Administrators," notes that high school counselors may be responsible for anywhere from 200 to over 1,000 students. One administrator notes,
We have six counselors for 2,600 students. They've become more schedules and credit counters than anything else. They aren't true guidance counselors who have relationships with the students. They don't have an opportunity to build those relationships, and now they take it upon themselves to get out in to the halls just for five,10 minutes, just to try to connect with these kids who they're seeing for just minutes to talk about credits and graduation as opposed to career planning and guidance.
The National Association for College Admission Counseling (NACAC) goes even further in their research study, "State-by-State Student-to-Counselor Ratio Maps," noting:
Nearly one in five students don't have access to a school counselor, leaving approximately 8 million students without access to proper counseling support.
1.7 million students go to a school with a police officer but no counselors.
See the ACLU article, "Cops and No Counselors."
In contrast, our singular focus is college planning. Students most at risk, are those from lower income families and those who will be the first in their family to attend college. Rachel Bevel, in the article "My Husband And I Thought Education Was A Way Out Of Poverty. Now We're $718,000 In Debt," outlines the huge amount of student loan debt accumulated by she and her husband as a direct result of the lack of college planning guidance.
I applied to Miami University of Ohio after reading a mail brochure. The school launched a scholarship program for underprivileged students. I was accepted and later committed to the university without any idea where it was or what the campus looked like. Attending Miami was the best decision. Not only was the majority of my tuition covered with scholarships, but the campus was beautiful. I graduated in 2012 with $23,025.88 in student loans [Otis accumulated $80,000 in undergraduate debt].
Our books, materials, and online curriculum are research-based and research-responsive, which means that our program is based on the best available data and information pertaining to such areas as admission rates, student loan debt, college readiness, and secondary school support. This data is undergirded by our own data, gathered each year from reviewing admission decisions and financial aid award letters for hundreds of participating students.
Despite the urban legend that scholarships are falling from the sky and millions of dollars in scholarships go unclaimed each year, data from the National Postsecondary Student Aid Study provides clear evidence that students should be focusing less attention on searching for scholarships and more attention on getting into the right colleges.
1.58 million students are scrambling for the $6.1 billion in scholarships awarded each year, which averages to about 1 in 8 students amassing just $4,202 in scholarships
Only 0.2 percent of students acquire $25,000 or more in scholarships
Only 1.5 percent of first-time college students receive a full scholarship to college
Only 2.3 percent of students are awarded athletic scholarships, which average only $11,914 each
College Readiness and Culturally Relevant
Our program meets the standards of U.S. Department of Education ESSA, Title IV, Part A which focuses on increasing student achievement with access to a well-rounded education; increasing students' technology proficiency and digital literacy; supporting college and career counseling; promoting access to accelerated learning opportunities such as AP, IB, and dual enrollment; promoting parent involvement; establishing community partners; innovative uses of technology; providing high quality digital learning opportunities; and delivering specialized curricula using technology. However, our program not only meets federal guidelines, but inspires. Our curriculum is culturally relevant in both content and student outcomes. Diverse student profiles are embedded in our curriculum so that students see themselves in the curriculum and are exposed to the college and scholarship pathways chosen by students from similar socioeconomic and cultural backgrounds. Students are exposed to postsecondary pathways into technical schools, community colleges, research universities, liberal arts colleges, military academies, HBCUs, High Hispanic Serving Institutions, and first generation-friendly institutions and support programs.
Our cohort students are choosing to be intentional in their college planning and are among the top performing and most motivated students in their respective schools; are measurably increasing their GPAs and SAT/ACT scores; are enrolling into the most rigorous classes; and are performing thousands of hours of community service and assuming leadership roles across an array of clubs, organizations, activities, and athletic teams.
As a result of making informed college choices, our cohort students are assuming student loan debt at a far lower rate than the national average and graduating on time at a rate far higher than the national average. We are proud of the many hundreds of students with whom we have worked who are choosing to "Own the Process."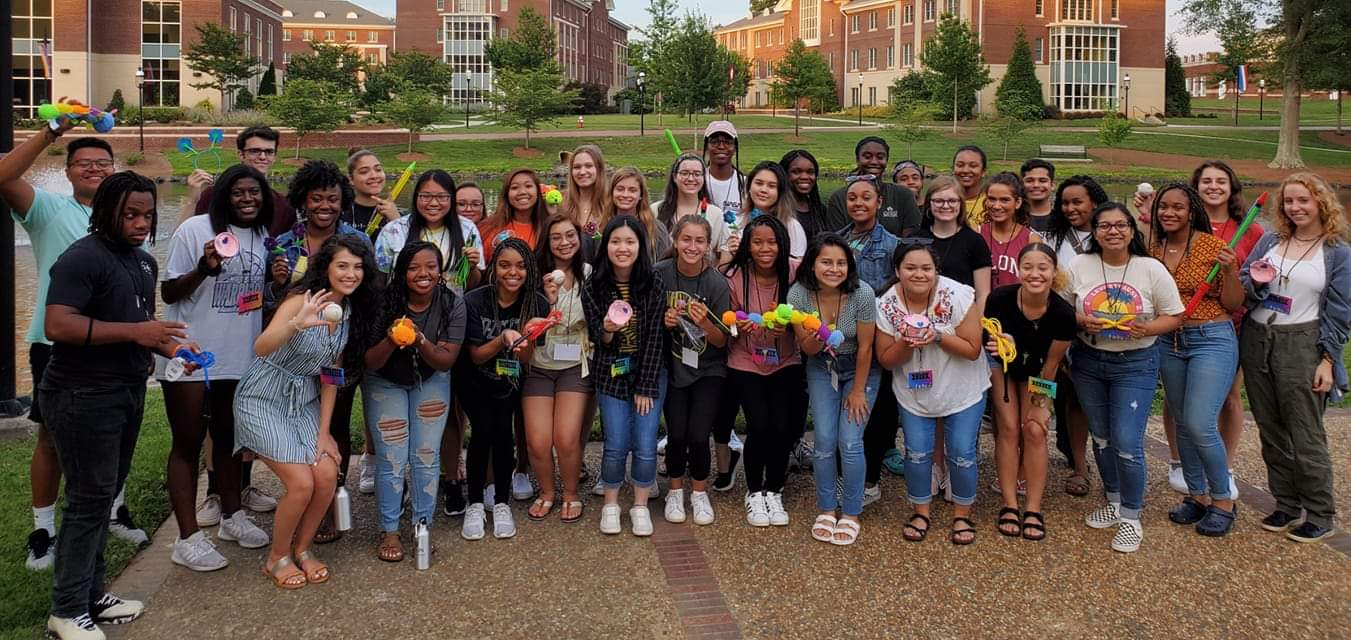 Congratulations to 2019 Elon University Odyssey Scholar, Thuong Do, from our Guilford County Schools Cohort. Thuong, a first generation immigrant from Viet Nam, is pictured above (fifth from left in the front row) with other Odyssey Scholars.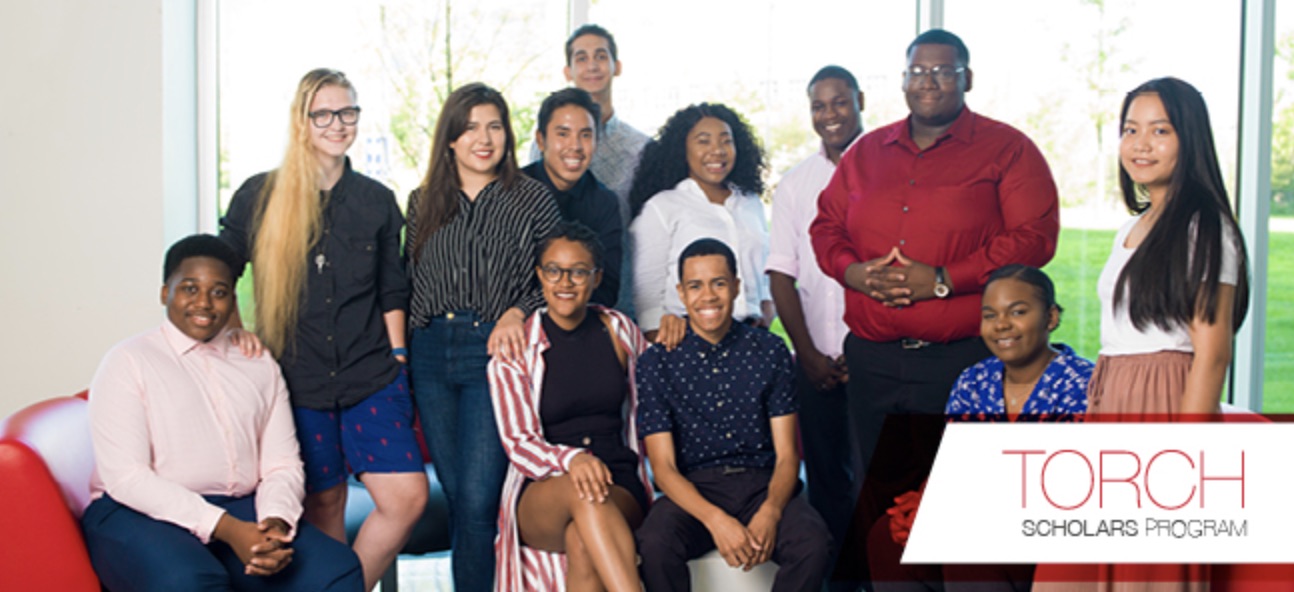 Congratulations to our 2018 Torch Scholars, Damian Lee from Florence County School District 3 Cohort (SC) (seated on the far left), and Otis Burns from Guilford County Schools Cohort (NC) (standing 4th from the right). We are so proud of you and know that you will do great things and make an indelible contribution to the Northeastern University community and the Torch Scholars Program.
The Differences Between College Planning, College Readiness, and College Awareness
Typically, school, mentoring, and community-based programs provide college readiness or expand college awareness through social skill development, study skill development, college tours, and conversations about college and careers. However, college planning is largely relegated to private college admissions counselors or advisors who work one-on-one with students or in small groups for fees ranging from a few hundred dollars to several thousand dollars. The Princeton Review "Ultimate Admissions Package" costs $2,799 and is targeted toward high school seniors who are ready to apply to college. Private College Advisors can easily cost $10,000 for a Common Application and essay review.
In the article, "How Much Would You Pay to Get Your Child into Harvard," the $10,000 consultant fee was paid by a family to increase the odds of their child being offered admission to Amherst College—where our older son received his degree and where we have successfully assisted many cohort students in being offered admission. One of our Guilford County Schools Cohort students, Brenna Kaplan, posted a video sharing her journey, and our guidance, into Amherst College.
We are the only nonprofit community-based organization (CBO) with a comprehensive proprietary research-based and research-responsive curriculum providing college planning guidance freely to students and families in our partner school districts; at a deeply discounted price for students at our faith- and community-based partners, and at minimal price directly to students and families through our online program. In contrast to college readiness and college awareness, college planning involves course planning, summer planning, college/career research, self-assessment, leadership development, focusing community service activities, choosing the right extracurricular activities, social media assessment, navigating online portals, communicating with college admission and financial aid officers, completing the FAFSA and CSS Profiles, personality type profiles, multiple intelligences, narrative writing, institutional and private scholarship research, reviewing and negotiating financial aid award letters, and setting short- and long-term goals within a grade level specific and strategic context. Students and parents, particularly those who will be the first in their family to attend college, need assistance with navigating the FAFSA and CSS Profile, and communicating with college admission and financial aid officers. All of these areas are covered in our printed materials, throughout our online curriculum, and through one-on-one conversations with students and families.
Apply Now
While returning students are automatically allowed to return to our program, new students must begin the process by emailing us at info@accessandequity.org to request an application. After completing the required documents, we will review your application and provide a decision. At that time, you may proceed forward with purchasing your registration.